Memorial Art Gallery
Rochester, New York
Woman in an Ermine Collar
1909
American Painting
Oil on canvas
76 7/8 in. x 38 3/8 in. (195.26 cm x 97.47 cm), without frame
Gift of Joan Cunningham Williams, Peter Cunningham, and Michael McEnery Cunningham
83.13
About the Object:
Kathleen McEnery's early training as an Urban Realist drew her to depict reality with an uncompromising eye. The artist was about twenty-two years old and living in Paris when she painted this bold and modern woman. McEnery lived in New York, Madrid, and Paris before she moved to Rochester, NY in 1914.
[Gallery label text, 2007]
Kathleen McEnery was about twenty-two years old and living in Paris when she painted Woman in an Ermine Collar. She lived and trained in New York, Madrid, and Paris before moving to Rochester in 1914. McEnery played a major role in Rochester's cultural circles, and painted throughout her life while raising a family with her husband, Francis Cunningham of the Cunningham Car Company.
McEnery's training with the American realist master Robert Henri drew her to depict with honesty the conditions of modern life. The result is this woman's unapologetic presence. She is an embodiment of the New Woman – a cultural phenomenon of the growing women's rights movement, of which the artist was an ardent supporter. The New Woman rebelled against traditional gender roles and was independent, confident, and physically active. As this woman's dashing manner illustrates, she was equally as comfortable in the public domain as would be any man.
[Gallery label text, 2006]
In New York City, Kathleen McEnery studied with Robert Henri. She also studied abroad and exhibited two paintings at the controversial 1913 Armory Show in New York City. After her marriage to Rochesterian Francis Cunningham, whose family owned the Cunningham Carriage Factory, she continued painting in a studio off the family's home on 10 South Goodman St., now on the campus of the Rochester Museum and Science Center. As Mrs. Cunningham, she was a member of the Gallery's Board of Managers from 1927 through 1971.
The model's direct and intelligent expression and forthright pose suggests the "new woman," ready to be a participant in contemporary society rather than remain at home. Certainly, McEnery herself, who had graduated from Pratt Institute and lived on her own in New York City, fit that description as well.
[Gallery label text, 2003]
Portrait of Charlotte Whitney Allen
American Painting
Oil on canvas
41 3/4 in. x 35 3/4 in. (106.05 cm x 90.81 cm), with frame
Courtesy of the David Hochstein Memorial Music School
3.94L
Fritz Trautmann, 1927
American Painting
Oil on canvas
36 in. x 30 in. (91.44 cm x 76.2 cm)
Anonymous gift
71.82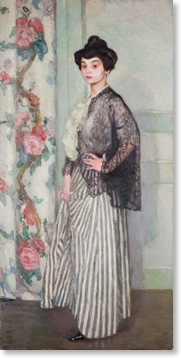 Colette, circa 1908-1910
20th Century American Painting
Oil on canvas
76 1/2 in. x 38 in. (194.3 cm x 96.5 cm), without frame
Gift of Mrs. Murat Williams, Peter Cunningham, and Mrs. Michael Cunningham
91.104
Rochester Institute of Technology
90 Lomb Memorial Dr.
Rochester, NY 14623
(585) 475-2562
Woman seated
by Kathleen McEnery
Painting
Oil painting
28" x 36"
This piece located: Archives & Special Collections, Wallace Library
This piece belongs to the RIT Archives Art Collection
Smithsonian American Art Museum
Washington, D.C.
Going to the Bath
ca. 1905-1913
Kathleen McEnery Cunningham
Born: Brooklyn, New York 1885
Died: 1971
oil on canvas
50 1/8 x 31 1/4 in. (127.2 x 79.3 cm)
Smithsonian American Art Museum
Gift of Peter Cunningham and Joan Cunningham Williams
1972.77